On this page we'll include some of our favorite pictures of our pet dog Bingo.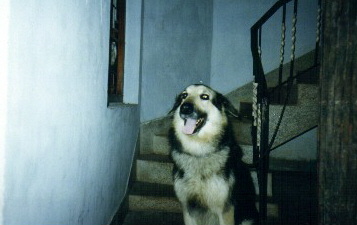 The photo above is our Pet dog Bingo.He came to our house as a tiny little puppy and grew up along with our children. He taught our children what loving and caring is all about.He is a huge dog and has never hurt even a fly in his life. Neighbours call him,"Bingo the gentle giant". We had to leave Bingo behind in India on our posting to Maldives.
Dogs are banned in Maldives as it is a Muslim country.
BINGO-WE ARE COUNTING THE DAYS WHEN WE CAN HAVE YOU BACK WITH US.